Average rating:
4.55
Released applications: 16
---
Ucube.Games Published Applications :
SUPPORTED DEVICES
Compatible with iPhone 4 or above, iPod touch (4th generation) or above, and iPad 1 or above.

A TRUE HERO IS BORN IN CHAOS…
A Whole New Card Game is available for...
●おかげさまで累計30万ダウンロード突破!●
【更新情報】
・初購入特典が獲得できない不具合を修正しました
・Facebookログインができない不具合を修正しました。

【ゲーム概要】
「戦国の覇業...
Witches Chronicle

〜Anime Fantasy themed card battle game〜

Witches Chronicle is a brand new Tetris-like puzzle game that brings you next generation card game experience. With the...
전략 RPG의 새로운 발견! 돌격! 전장으로!
천하통일을 위해 자신만의 정예부대를 편성하고 펼치는 전략과 전투!
실전을 방불케하는, 방심하면 털리는 가슴떨리는 공방전, 털리면 복수는 필수!
당신에게 큰 즐거움을 선사할 것입니다. 지금 바로 다운받으세요!!

- 유저와의 맞짱 승부, 무한대결 PVP!
-...
Dragon Coins

Developed by Sega Networks and presented by Ucube, "Dragon Coins" is a revolutionary RPG game you've never seen before! With its fascinating Japanese anime style artwork and...
Combo, combo, meow meow meow!
You know what? "Combo! Combo! Cat!", the most interesting puzzle game with stunning visual performance and unique gameplay style is now ready to occupy your...
《My Little Basara》 is an incredibly interesting card game with intensive strategic battle and Japanese art style. In 《My Little Basara》, you will meet those famous generals of ancient Japan and...
"Goddess of Gem Shooter" is a puzzle RPG with classic bubble shooter gameplay. In "Goddess of Gem Shooter", you will meet more than 300 cute or sexy Goddesses with original Japanese artwork style,...
Are you a poker game lover? Then I bet you'll be interested in having an exciting poker game with the famous heroes from the 3 Kingdoms!

"3 Kingdoms and Poker" combines the epic story of 3...
คำอธิบาย

ซัพพอร์ท
IPhone4 IPhone5, IPod touch รุ่นที่4ขึ้นไป และ IPad 1ขึ้นไป

Dynasty Kingdoms
ในโลกของDynasty Kingdomsจะมากับบทบาทของผู้บังคับบัญชาขุนพล...
РУССКИЙ ЯЗЫК является единственным языком данной версии игры

ПРИСОЕДИНИСЬ СЕЙЧАС, чтобы стать героем - Хранителем Святого Меча в игре Подземелья и Зло: Святой Меч. В считанные минуты...
The most exciting action & 360 degree third person shooting game is back!

Your great adventure begins in the mysterious Forest of Training, you have to save the pumpkin town and defeat the...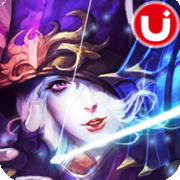 ŞİMDİ KATIL Zindanlar & Şeytan: Kutsal Kılıç içindeki kahraman Kutsal Kılıç gibi ol. Birkaç dakikadan sonra büyüyle güçlü kartları serbest bırakacaksın, canavarları çağıracaksın ve değişen savaşta...
Rage of the Seven Seas, a 100% NEW 3D naval action game!

Ahoy pirates, are you ready for a new adventure? Rage of the Seven Seas is an action packed RPG game where you can build custom...